Ramsay Clinic Albert Road is located close to Melbourne CBD, a short walk from St Kilda Road, and easily accessed by public transport.
Ramsay Clinic Albert Road
31 Albert Road (close to the corner of St. Kilda Road)
MELBOURNE VIC 3004
Melway Map Reference: Map 2K J2.
From March 2023, there will be changes to the road access and parking at the front of Ramsay Clinic Albert Road. These changes are due to the Metro Tunnel Project. One of the most significant changes will be the permanent closure of a large amount of the parking available in Albert Road between St Kilda Road and Kings Way.
We understand the impacts of these works could be difficult for you and that you may need to consider other options to access the Clinic. We therefore strongly encourage you to plan your travel journey and allow extra time.
Information on public transport options is available via Public Transport Victoria: www.ptv.vic.gov.au and via the PTV Journey Planner at: www.ptv.vic.gov.au/journey . The closest tram stop is 20 – ANZAC Station/St Kilda Road. Further information on tram routes can be found below.
The map below outlines the pedestrian and traffic flows around the Clinic during the Metro Tunnel works, casual paid parking locations and tram stops.
Two disabled parking spaces will remain available in Albert Road during the works. These spaces may be relocated periodically to allow work to continue at the front of the Clinic.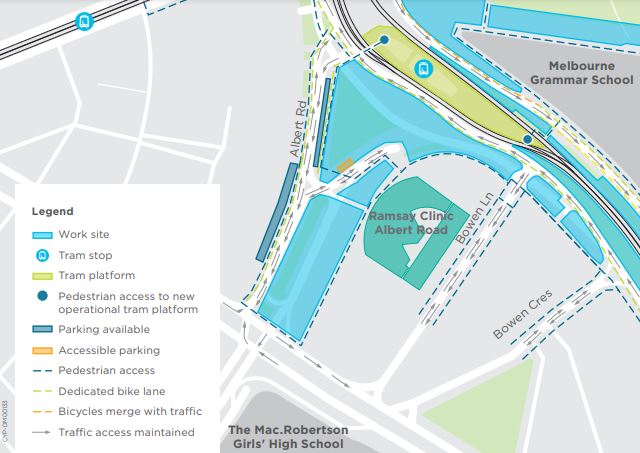 Casual paid public parking is available at the following locations:
Ace Parking
2 Bowen Crescent
Melbourne
St Kilda Rd Towers Car Park
1 Queens Road
Melbourne
Care Park
13–21 Palmerston Crescent
South Melbourne
Care Park
360 St Kilda Road
South Melbourne
*note: entry and exit via Wells Street
Please be advised there is no parking on Clinic grounds for patients or visitors. 10 minute Drop off for patients is available via the Bowen Lane driveway. Entry is via boom gate entry in Bowen Lane. Drivers and passengers are advised to observe any construction signage and safety instructions when navigating the car park and entry to the Clinic.
Ramsay Clinic Albert Road is a short walk from St Kilda Road and is serviced by several metropolitan tram routes: 3/3a, 5, 6, 16,58, 64, 67 and 72. Stop 20: ANZAC Station/St Kilda Road is the closest tram stop to the Clinic.
Please be aware the Metro Tunnel Project works at times impact tram services. We recommend you check for any temporary service alterations by visiting www.ptv.vic.gov.au/live-travel-updates/